Kilka dobrych rad, jak odchudzić potrawy wigilijne
23-12-2012
---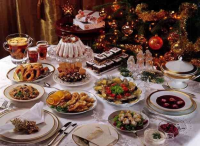 Stosując kilka prostych trików możemy spowodować, że nasze potrawy wigilijne będą zdecydowanie mniej kaloryczne, nie tracąc przy tym walorów smakowych. W ten sposób unikniemy zbędnych kilogramów po świętach.
1. Tłustego karpia możemy zastąpić zdecydowanie chudszym dorszem, mintajem, morszczukiem lub solą.
2. Zamiast tradycyjnej panierki oraz smażenia lepiej rybę ugotować na parze, upiec w piekarniku lub na patelni grillowej.
3. Zamiast soli do przyprawiania potraw użyjmy świeżych lub suszonych ziół. Z rybami świetnie komponuje się koperek lub pietruszka.
4. Śledzie zamiast tradycyjnie w śmietanie podajmy w sosie jogurtowym.
5. Pierogi ugotujmy w wodzie a nie odsmażajmy na tłuszczu.
6. Do sałatek jarzynowych zamiast majonezu używajmy jogurtu naturalnego. Dla zaostrzenia smaku możemy połączyć go z musztardą.
7. Zupy grzybowej nie zabielajmy śmietaną. Podajmy klarowną z kawałkami grzybków.
8. Barszczyku nie dosładzajmy. Doprawmy go ziołami i czosnkiem. Podajmy w filiżankach lub z kawałkami buraków zamiast uszek lub pasztecików.
9. Kompotu z suszu nie dosładzajmy. Suszone owoce zawierają go już wystarczająco dużo. Doprawiony przyprawami korzennymi (goździkami i cynamonem) będzie miał piękny aromat.
10. Pierników nie polewajmy czekoladą ani słodkim lukrem. Zdecydowanie lepiej smakują bez takich dekoracji. Do ciasta możemy za to dodać rodzynki i orzechy.
11. Masę makową lepiej przygotować samodzielnie. Gotowe masy to przede wszystkim sztuczne dodatki a mak, bakalie i miód stanowią w nich niewiele. Raz w roku warto poświęcić czas by zrobić ją samemu. Mamy wtedy wpływ na to, ile bakalii oraz miodu dodamy by zbytnio nie podnieść kaloryczności potrawy.
12. Świąteczny sernik zróbmy z chudego twarogu oraz jogurtu zamiast śmietany.
13. Formy do pieczenia zawsze wykładajmy papierem by uniknąć smarowania ich tłuszczem.
14. Do warzyw nie dodawajmy zasmażek. Zdecydowanie podniosą kaloryczność potrawy oraz spowoduję, że będzie ona trudniej strawna.
Autor: Dietetyk Anna Chęcińska-Dudek